TAK

Tak frgarance, Neil Morris

Sniffapalooza Magazine Interview with Sarah Barton King of The Pink Room

by Raphaella

Sarah, Can you tell us briefly about yourself?

I am a designer so I see on a multidimensional level. I first began by designing

textiles and of course this means colour and texture. I have also always found

literature an immense source of visual imagery, allowing my imagination to wander

in wonder. With my love of colour, texture, the written word AND gardening it had

to lead into the eidetic experience, which of course means fragrance.

When I visit the New York Botanical Gardens I don't just look at the beauty, colour

and formation of the flowers I have my own 'Sniffapalooza' and write down all the

sensations and aromas that I experience  Add all this together and how could I

not want to give all of the pleasures I derive back to the people who enjoy them

as much as I?

What inspired you to create your fragrances?

My love of art, literature, gardening, textile design, colour, aromas, and fantasy -

always fantasy!

What differentiates your fragrance from other fragrance lines in the niche market

and makes them special?

The Pink Room Parfum No 1 was the eidetic experience of my shop in London's

Notting Hill, 'The Pink Room.' It was so full of colour, texture, fantasy and bonhomie;

add to that Marcel Proust, tea with his aunt in her garden, Petite Madeleine the roses,

jasmine, lily of the valley and voila, The Pink Room Parfum No 1.  A classic.

The Pink Room Parfum Pour Toi is again a literary allusion but is more personal and unique.

Everyone in the niche market is special and different that's what makes it so important.

It allows each one of us to explore the realms of fantasy.    

What did you find was the hardest thing about the entire process in creating

perfumery and dealing with the business aspect?   It has been a joy to have been

able to work with Guy Robert, a maestro and genius and then, Cyrille Carles.

They both reflect my dreams, fantasies and hopeful abilities. As for the business

side it is like yin and yang and although I love meeting people and 'rapping' I truly wish I had a counterpart who could do 'the business!'

There must have been a defining moment that led you to create this and go public with it, what was that?

When I contacted Guy Robert and said "I want to work with you!" and he said "Let's meet..."  So off to Paris where we met and I gave him my heart and story and he was so excited in his wonderfully open way I just knew that that was THE defining moment and it would only go on from there and here I am. Excited, constantly burning with ideas and enthusiasm even though there are those who constantly inform  we NICH'ERS that without big $ for marketing we cannot compete! Well I beg to differ, because it is we who have energy, drive and imagination that we wish to share with others that will take us along and we will succeed I just believe it and know it!!!!

Tell me what you love about fragrances.

They can exhilarate, excite, calm/meditate, be sexy and naughty and inform.

What was your favorite fragrance growing up?

Ooh, I remember Houbigant Quelques Fleurs, Worth J'Reviens and Geurlain Le Train Blue and Mitsoukou. They all seem to pervade but from different times and people but most of all my favourite perfume is the aroma of my grandmother and mother baking. Really! I think that's why I love the Petite Madeleine in a way. Also evocative and I never want to forget those moments of close, personal contact with my grandmother and mother when a very small child....or ever!

What is the most amazing fragrance you have ever smelled?

I know it sounds clichéd but truly......freshly cut grass, gardens after a storm, hot bread with freshly spread honey from a honey comb, freshly ground coffee, sounds like a picnic doesn't it?

Which fragrance do you wish you had created?

So many so I shall content myself with pursuing my own dreams

Why do you think so many women and men are part of this current fragrance explosion? 

There is a zietgiest that is an electric current permeating through the atmosphere and it always happens whatever the sex. There are undeniably sexual differences but the same is true in the fashion industry. It just flows and those with the open minds, hearts and psyche just pick it up and flow with it. That's my experience anyway.

You live in America now, how did you come to that decision?

My husband is a New Yorker who lived in London for 34 years, came back for a project and I came too. Closed 'The Pink Room' and here I am. It was difficult at first but the energy of NY and the people, the Fashion District! I love New York and am very happy to be here!

Is there anything else you would like our readers to know about you or your fragrance that we have not discussed?

Just that I am grateful to them for their following, care and interest in me and The Pink Room..Thank You!!!!

Where are your fragrances available at?

Takashimaya NY, Luckyscent.com (on line) and The Scent Bar CA , Beautyhabit.com, Sin Scent Bar  Doylestown PA, Blue Tree New York

CO Bigelow NY, Suzy's Beauty Secrets Commack NY, Lulu's Manhattan Beach CA, Palmetto Santa Monica CA, Top's Secret Malibu CA

Yves Fine Lingerie Roseville CA, Adejas Boutique Houston TX, La De Da Webster TX, Beauty Bar Vancouver BC, First-in-Fragrance.com

Bruschal Ger(on line)

Histoires de Parfums

Is a perfume niche brand which positioned its fragrances in a luxury universe. We present a collection of twelve tomes with an amazing innovation: the smelling funnels. The range is composed by three different trends which are: the Main Characters, the Soliloquies and the Cult Books.

Histoires de Parfums was founded by Gérald Ghislain in 2000 nevertheless the unique tester system was thanked and created in 2007. Thanks to this perfumes' library, Gérald Ghislain has decided to tell life stories through perfumes.

An original way of smelling the perfumes that enables an instant identification of the brand: the funnel. The clients can discover the whole range of perfumes without saturation. The fragrance notes disperse as if they were on the skin. The filter system removes out the first "alcohol" effect.

Currently in prestigious and luxurious sales outlets like the Scent room at the Printemps, Histoires de Parfums also make use of innovative distribution networks, that is to say, concept stores or multi-brand clothing stores like 10 Corso Como in Milano or Quartier 206 in Berlin. Histoires de Parfums pursues a price policy in relation to its products and its target.  The retail price for a 120 ml bottle (4 oz) is 130 Euros in Europe and 185 Dollars in North America.

Gérald Ghislain wrote his own story with the frantic rhythm of a

passionate jack of all trades.  An epicurean, he tastes all of life's savors,

sprinkling his daily life with refined luxury. In love, he gives his all to

his projects. Insatiable wonderer, he listens, reads and discovers,

drawing inspiration from his trips and encounters.  His adventures

began in front of an oven. He is still the happy owner of a restaurant

and a bar in Paris. Enlightened lover of live arts, he produced Sentires

in 2004 , a Flamenco show  touring x the world.

Perfumery is an old dream of his. Following a solid training at ISIPCA,

Gérald founded Histoires de Parfums in 1999 and created a collection

of twelve rare and delicate perfumes. Fulfilled, he has the firm intention

of pursuing the adventure and telling many more Histoires de Parfums.

The collection created by Gérald Ghislain is governed by no rules other than inspiration.

With his luxuriant imagination, this loquacious individual choses to bring his stories to life in perfume, a sensitive and sensual medium.  Histoires de Parfums releases its fragrances in a Deluxe edition to read on skin.

The Histoires de Parfums language is eager and plural. Born in the South of France and brought up in Morocco, Gérald grew up surrounded by Mediterranean scents, and refined his palette and nose with gastronomy, learning the art of putting together and distilling savors. As with perfumery and cuisine, the key words of this creator are passion, know-how, exception and creativity. An eminently luxurious craftsman's grammar, creating aromatic phrases of sharply accurate vocabulary, which enhances the noblest of raw materials.

T Fragrance for Takashimaya

Takashimaya signature "t" fragrance evokes the spirit of Takashimaya: seductive, original, and timeless.  It's a beautifully balanced scent, subtle but impossible to ignore, imbued with the magic properties of Jasmine, Muguet, Orange flowers, Tea and Cedar wood.  Takashimaya also carries the full line of "T" in a scented candle, body lotion and beautiful scented soaps.

Neil Morris Takashimaya New York

by Neil Morris

I am honored to have been asked by Takashimaya New York to create a fragrance especially for them.  I wanted to create a scent that would encompass the beauty and serenity of the Japanese culture and also incorporate the stylish sophistication of Fifth Avenue

The subtle, evocative, and serenely compelling Neil Morris for Takashimaya New York opens with top notes of Black Currant, Mandarin, Bergamot and Aldehydes for a sparkling and fresh introduction. Heart notes include Plum Blossom, Jasmine Tea, Japanese Cherry Blossom, Bamboo and Dossinia Orchid, accented with the passionate scent of Narcissus. A precious base note of Cedar is enriched with accents of Oak, Tonka, Orris and Oud for a warm, sophisticated finale.

Takashimaya "T"

By Kathy Patterson

Notes: jasmine, muguet, orange flowers, tea, cedarwood

The essence of Takashimaya – original, artistic, and timeless.

T is a lovely and refined scent, opening with a beautiful soft bouquet of flowers, redolent of jasmine and orange blossoms.  It's also a bit spicy at its heart, and a bit soapy too, and dries down to a woody base that must have a bit of amber and oakmoss, even if the notes aren't officially listed.  It actually seems quite a bit like a chypre.  But the more the scent dries, the more it takes on a powdery quality, one with a backdrop of tea.  T gets lighter and prettier in character further into the drydown until it becomes a fragrant whisper on the skin.

T is available exclusively at Takashimaya in NY


Takashimaya is just one of New York City's favorite high end shopping destination and a favorite for niche and beautiful fragrances.

Plus, just for Sniffapalooza, they make those fabulous cupcakes and tea for our visit.

Many fragarance lines are available here-too many to mention but they stock Carthusia Mediterraneo, Nasomatto, Panama-Boellis, Le Cherchi Midi, The Different Company, Il Profumo, Parfums DelRae, Diptyque, Maitre Parfumeur et Gantier, Histoires de Parfums, 06130, the latest from Miller et Betaux, T. Takashimaya, Yosh, Neil Morris Fragrances, Septimanie Perfumes Pavillon des Fleurs, The Pink Room, Ineke, Montgomery Taylor's Ambra di Venezia, Ulrich Lang Anvers and Anvers 2 and Summerscent by Marjorie Midgarden Fragrances, just to a name a few.  I am sure there will be many new lines to discover as soon as we walk in the door!   I am hoping they still stock Keiko Mecheri but a stop at this fragarance department is just one of the highlights of our journey- below is just a small sampling of what the fragrance department of Takshimaya has in store for us-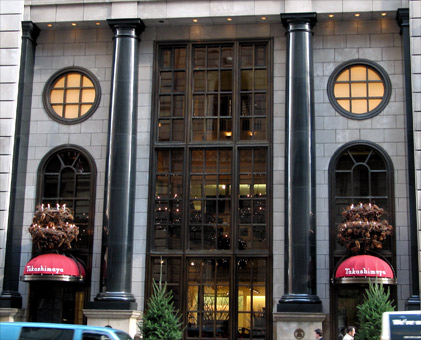 Ambra di Venezia Parfum

Montgomery Taylor

A visit at Takashimaya will never be the same if

"Monty" Taylor is not there to greet me. I remember

him on my first visit to Sniffapalooza and I cannot live

with out his beautiful perfume and body creme-I find it

comforting that he is there to talk to us and to show

us his creations...

The New York Times Chandler Burr -

Perfume Critic of The New York Times said:

...'O tidings of comfort and joy', carolers sing.

Ambra di Venezia is a perfume whose warm,

jewel-like clarity manages the trick of being

completely unclassifiable. It was created by Rayda Vega

for the New York designer Montgomery Taylor, who once

saw an orange sunset in a purple Venetian sky and asked

for that evening in scent. I've never smelled anything quite like the result -- not a floral, not an amber, this is a rich sweetness, creamy velvet like a glass of Sicilian passito. I have never offered it to anyone who did not inhale and instantly relax, reassured as if by a caress. Which makes Ambra di Venezia's classification clear: it is angelic -- the scent of comfort and joy."

ELLE Magazine Online ELLE.COM said:

"At Takashimaya New York, the 5th Avenue destination for all the trappings

of Zen-like living, Ambra di Venezia by Montgomery Taylor beats out the competition. "

"...marriage of jasmine, French narcissus, citrus elements and sandalwood ..."

MORE Magazine asks Bernadette Peters ...her signature scent?

...Ambra di Venezia, she replies

Artful alchemy. A captivating scent based on French narcissus and jasmine, with notes

of mango, mandarin orange, sandalwood, and lime. In both a luxurious body cream

enriched with grapeseed oil, wheat germ extract and fragrance.

Montgomery Taylor developed his Ambra di Venezia fragrance with the accomplished New York

perfumer, Rayda Vega. The two approached the creative process by starting with the inspiration

of Taylor's glass making experience in Venice.

Taylor describes a day in Murano with friends who operate and own their own glass furnace.

They offered him access to their workshop during his stay in Venice. On a typical day he

traveled by water transport to Murano and took a seat in front of their furnace to draw, design

and discuss the glassblowing techniques. Sometimes the artisans allowed him to have a turn

with the blowing pipes. He and the team of glassblowers also exchanged their ideas about

their passion for the art. In the evening, he returned on a boat to Venice.

At sunset, he walked to a favorite restaurant of the locals. In his memorable passage along

canals and over the footbridges, he was struck by the evening atmosphere. At this hour there

were sounds of shopkeeper voices and Venetian artisans. A canopy of amber skies smiled

overhead, acknowledging the end of a rewarding day full of mental and physical work. Taylor

himself felt himself part of the centuries old Venetian tradition where artisans focused on their

trade, their art and their precise techniques.

Later, he told Rayda Vega this story on his return to New York. He asked her to work from the

same inspiration to start the complex blending of his fragrance. He wanted her to capture the

wonderful feeling of his daily experience in Murano, when he savored the images of sunset

colors and the fresh breeze sweeping from the Venetian lagoon.

What they achieved in Ambra di Venezia is a freshness reflecting that Venetian experience:

a soothing breeze, the mango color of the sunset, and the majesty of Venetian palaces

silhouetted in this dramatic evening light.

For his bottle design Taylor instills the sunset color and the elegance of Venice.

The result is a glowing flacon where a divine fragrance, the

art of glass making and the Venetian culture are richly combined in

Ambra di Venezia.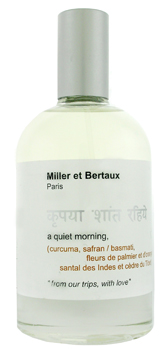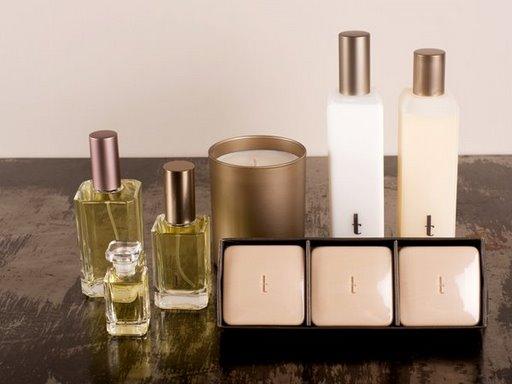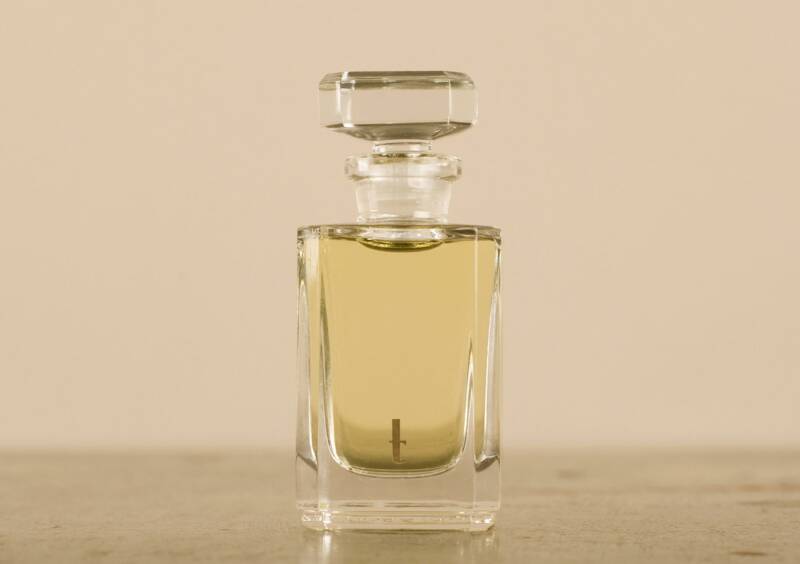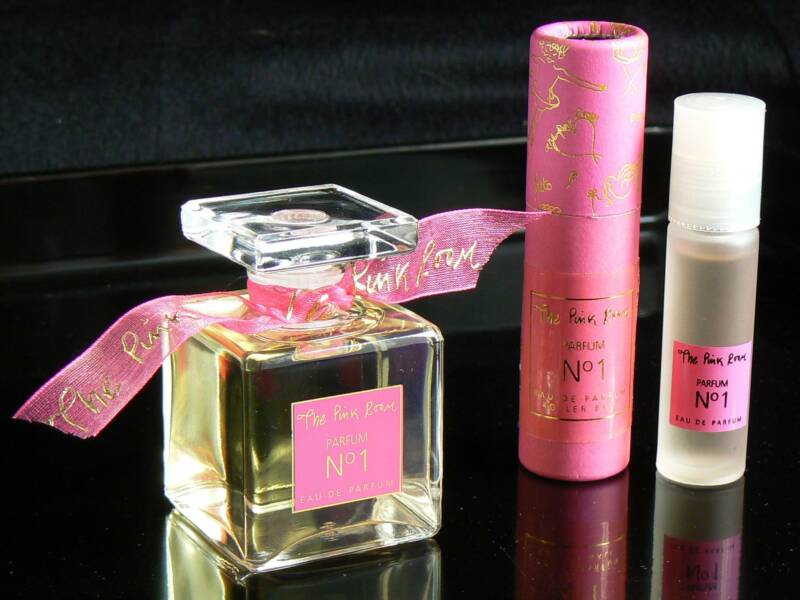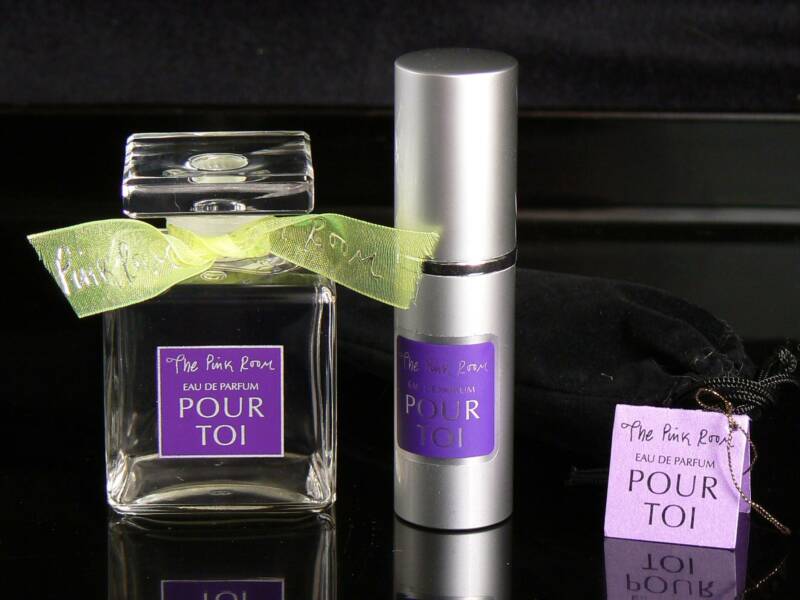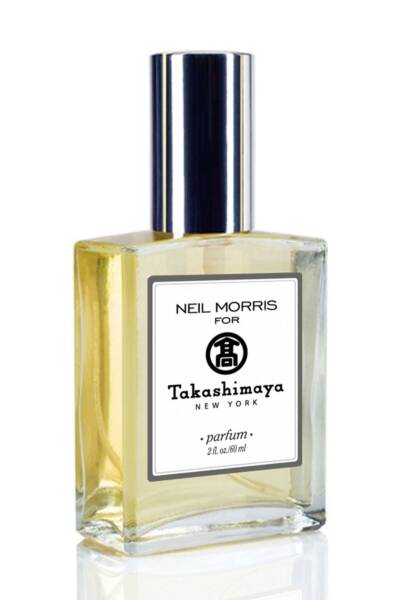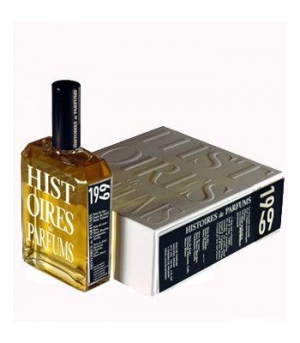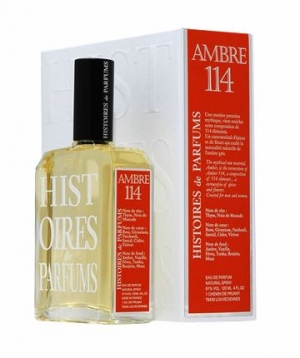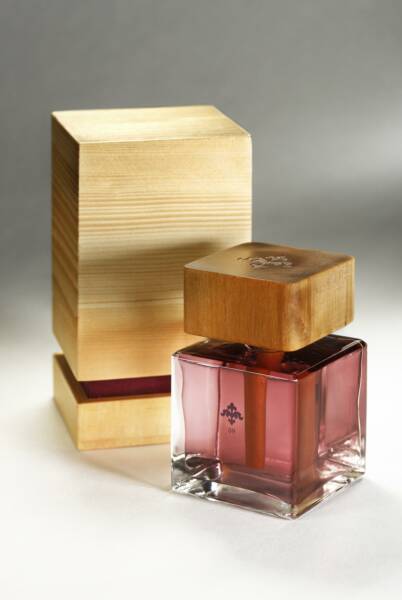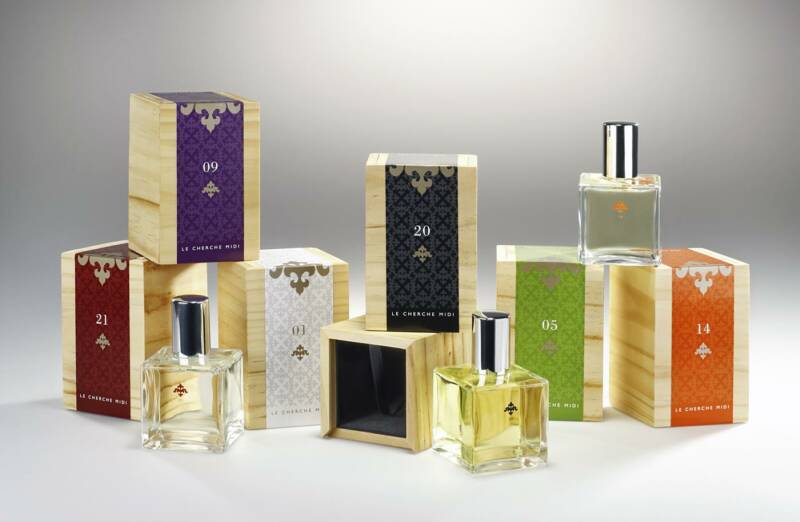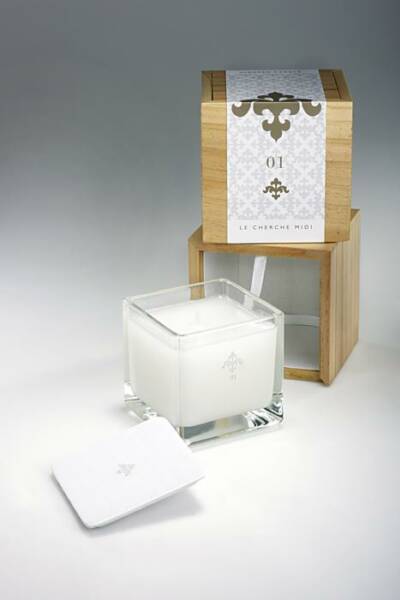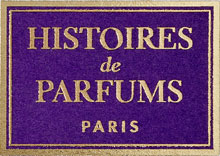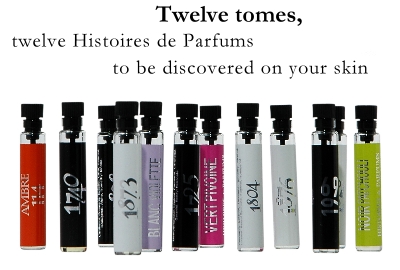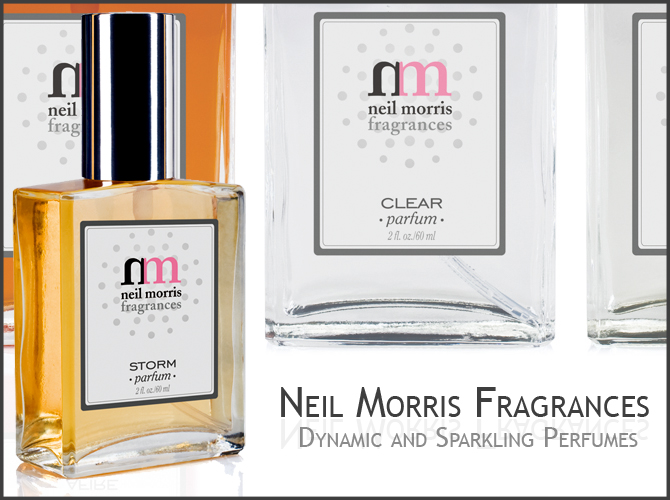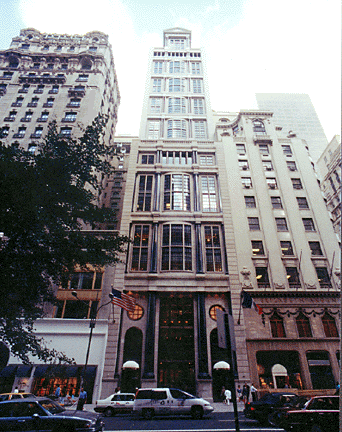 The Pink Room No. 1 and Pour Toi at Takashimaya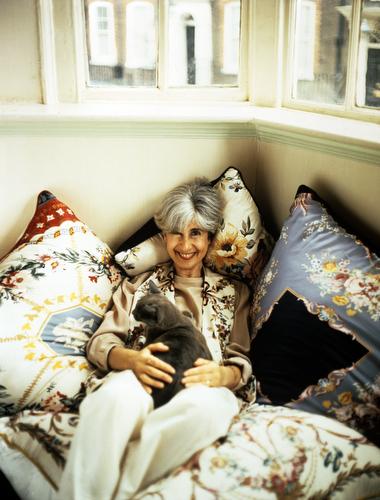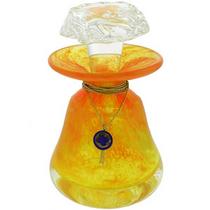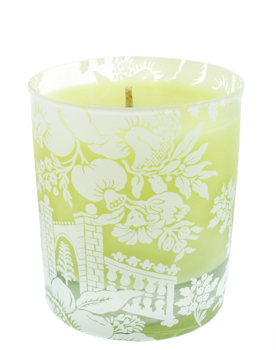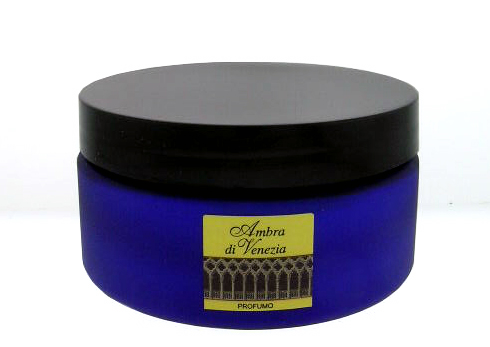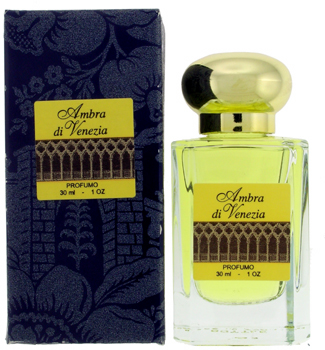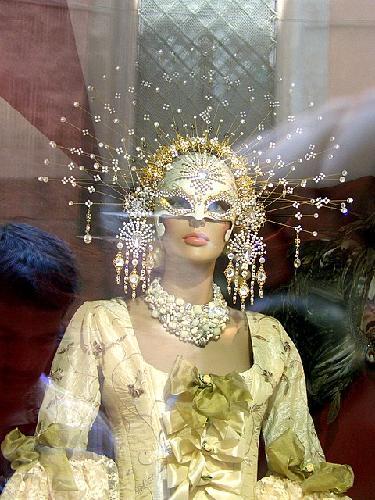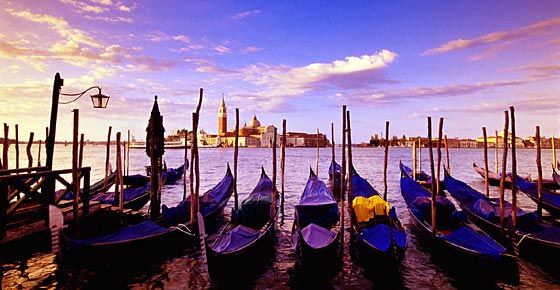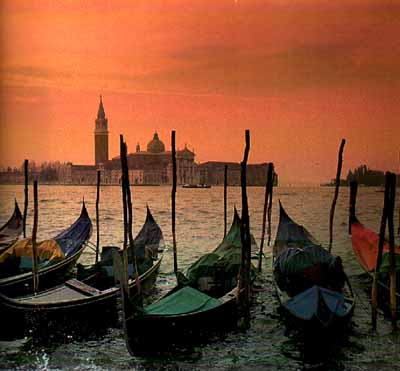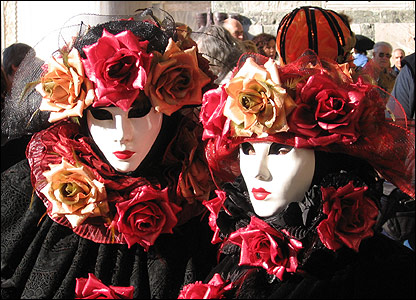 Le Cherche Midi

Takashimaya

Our story begins almost 20 years ago on Rue du Cherche Midi, tucked away in the heart of the Left Bank of Paris. On this narrow, meandering street, young couples and families strolled among artisan shops and outdoor cafés, bestowing a charmed elegance to this tiny hamlet. An oasis among the hustle and bustle of cosmopolitan life, Rue du Cherche Midi's historic corridors offered a welcome respite where visitors could take a breath, reflect and find a moment unto themselves. Wanting to capture this feeling and share it with others, Le Cherche Midi was born and began a journey to inspire others to experience their own 'found moments' through fine fragrance.

Nothing is more memorable than a fragrance. A scent can be unexpected, momentary, and fleeting, yet conjure up long forgotten memories or transport us to another place. With this in mind, we spent over two years working to develop our signature fragrance, Le Cherche Midi 01. By using a complex blend of high quality oils and extracts, we crafted an original fragrance that broke the bounds of simple, single-note home fragrances and allowed each of our customers to draw their own conclusions about what the fragrance could and should be. Almost two decades later, the tradition continues. In addition to Le Cherche Midi 01, we now offer a suite of fine fragrances that can work individually or together over a number of products including luxury candles and fragrance mists. Each of our fragrance lines are identified only by color and number, we leave the rest to you.


LE CHERCHE MIDI A FINALST FOR

2008 FIFI AWARD FOR INTERIOR

SCENT COLLECTION OF THE YEAR

Luxury home fragrance brand Le Cherche Midi, announced today that it was

one of five finalists for the Fragrance Foundation's 2008 FiFi award for Interior Scent Collection of the Year. 

The FiFi awards considered the "Oscars" of the fragrance world recognize excellence in the industry and are bestowed each year in 20 various award categories.  A panel of judges from diverse backgrounds (industry, retailers, journalists, etc) met in New York at the end of March and judged collections according to three criteria:

Olfactory Impression - the overall quality and consistency of the scent

Presentation and Packaging - attributes that call attention to the brand

Commercial Viability - the ability to capture the consumer's attention

Le Cherche Midi is honored to be included in a finalist group that includes interior scent collections from such prestigious brands as Prada, Slatkin, Gumps, and Crabtree & Evelyn after having been selected from an earlier round of over 60 other brands that included Marc Jacobs, L'Artisan Parfumeur, Armani Prive, Bond No. 9, Barbara Barry, and many others.  

About The Fragrance Foundation

The Fragrance Foundation was established in 1949 by six industry leaders affiliated with Elizabeth Arden, Coty, Guerlain, Helena Rubenstein, Chanel and Parfums Weil, to develop educational programs about the importance and pleasures of fragrance for the American public. Today, America is the largest fragrance market in the world and The Fragrance Foundation has become an international source for historic, cultural, scientific and industry related reference materials.

Currently, the Foundation's International Membership includes: manufacturers, suppliers, media, advertising and public relations agencies as well as designers, packagers and retailers. The Foundation maintains one of the most extensive print and video fragrance libraries in the world. It publishes educational and sales training materials. The Foundation produces videos and consumer publications and holds seminars and symposia for its members as well as for the international fragrance industry.

In June, The Fragrance Foundation organizes the annual "FiFi" Awards Ceremonies. The American "FiFi" Award was conceived in 1973 by the president to acknowledge and honor the creativity of the fragrance industry. In 1993, the first annual European "FiFi" was awarded.

Candle

Le Cherche Midi went to great lengths to find the highest quality components possible for our luxurious candles, creating a lasting mix of beauty and performance. Taking the characteristics of each unique fragrance in mind, we work directly with our perfumers to customize the concentration levels in each of our candles to provide the best possible results.

The vessel:  Each glass vessel is hand-blown and customized for Le Cherche Midi with a customized lid made of pure Thai silk.  This lid helps keep dust and dirt out of the candle and also helps preserve the fragrance of the candle when not in use.

The wax:  Le Cherche Midi created a custom blend of wax using the best raw ingredients from around the world.  Our wax, one of the softest on the market, is designed to have a low melting point, which creates a larger wick pool, giving our candles an exceptionally even, clean burn that maximizes the amount of fragrance lifted into the air.  Our wax is also odor-free, which allows the complexity of our fine fragrances to be enjoyed without any impact from the candle itself.

The wick:  Our wicks are made from 100% cotton and have been sized to maximize burn time with our custom wax.  All wicks need trimming to maintain the best burn, but our self-curling wicks help to control the flame and reduce smoke.

Fragrance Load:  Our candles contain a 12% fragrance concentration – one of the highest loads you will find among scented candles.  This ensures a strong fragrance throw  when they lit and thus require less burning before filling the surrounding environment.

Fragrance Cube

Le Cherche Midi is proud to introduce a first-of-its-kind scent experience.  Doing away with the maintenance required by today's reed diffusers, Le Cherche Midi has introduced an innovative line of reedless diffusers.  Our Scent Cube uses a patent-pending design to diffuse our unique scents and is housed in a spill proof container.  The Scent Cube's beautifully designed wooden packaging will also serve as way to turn the fragrance "on" and "off".  The unique design and size make the Scent Cube perfect for use in the car as well as the home. 

– Fashion team Costello Tagliapietra and luxury home fragrance brand Le Cherche Midi are pleased to introduce a limited edition candle, CT01, inspired by the designer's Fall 2008 collection.  Making its debut at Costello's February 2nd runway show, each attendee will depart with an exclusive luxury mini candle, the first in a potential collaborative collection between the two brands.

Introduced by mutual acquaintances, Le Cherche Midi and Costello Tagliapietra found a common synergy in their approaches to design and luxury.  Both brands look for their customer to define what their purchases means to them.  Le Cherche Midi chooses to number each of their fragrances, rather than naming them; Costello Tagliapietra, similarly, does not define their collections by seasonal inspiration, but rather leaves this up to interpretation.  Le Cherche Midi lines all of their candle boxes in a custom silk while Costello Tagliapietra is known for their exquisite jersey fabrics. 

THE CONCEPT

The concept began with what has quickly become recognized as Costello Tagliapietra's signature scent, balsam fir.  The warm and inviting fragrance set the tone and the ambiance of the duo's Brooklyn studio and thus became the basis on which to build an evocative candle fragrance.   Next, Le Cherche Midi's fragrance experts looked to CT's Fall 2008 inspiration, the fairy tale illustrations of Arthur Rackham.  With words like "mysterious," "woodsy," and "darkly romantic" used to describe the feeling of the scent in mind, the Le Cherche Midi team got to work.  After various revisions, Le Cherche Midi perfected a scent, with additional notes of cedar leaf, emerald cypress, crushed sage, suede wood and aged vetyver set to transport the user to the magical destination Costello Tagliapietra occupies with their beautiful creations. 

THE PACKAGING

The packaging design was also a detailed process.  Le Cherche Midi's unique wood outer packaging remained, but to give the candle box a special twist, the inside lining was replaced with Costello Tagliapietra's signature jersey cotton.

As Le Cherche Midi uses colors and numbers to identify each of their existing fragrances, the candle was designated CT 01, in honor of the first collaboration.

About Costello Tagliapietra

In 1994 Jeffrey Costello met partner, New York native and Parson's School of Design graduate, Robert Tagliapietra and together they have created Costello Tagliapiertra, a collection that fuses their aesthetic into a concise ready-to-wear collection that borders on the couture in technique and process.   Both, Costello and Tagliapietra were taught at an early age, by their grandmothers, in the finer points of tailoring.

The pair introduced their premier collection at the Spring 2005 fashion week in New York and quickly garnered a number of rave reviews and awards.  They went on to win the 2005 Ecco Domani Fashion Foundation Award and were finalist of the prestigious CFDA/Vogue Fashion Fund in 2005 and 2006 and were elected to the CFDA in 2006. 

The Costello Tagliapietra collection, beautiful both inside and out, is masterfully finished with gussets, bound edges and French seams resulting in expertly tailored clothing perfect for the modern woman.  Working primarily in kits, playing with the tension between fabric, drape, and silhouette, the designers have created a unique vision that is both elegant an timeless.  Finding inspiration in music, art and fashion the references for their collections are not solely dictated by a certain decade, muse or idea, but rather a myriad of inspirations blended, building a silhouette and look distinctly their own. 

Lean more at
www.costellotagliapietra.com

Each of our fragrances has been carefully selected and crafted with a unique blend of natural essences and oils. Our hand poured candles use the highest grade wax available and burn clean with all cotton wicks. Each candle comes with a hand-crafted silk topper that helps to seal in the fragrance until it is ready for use and serves as a unique decorative piece. The accompanying fragrance mists can be used to scent the air, linens, or even your skin. Each of our custom designed cube boxes, made to be reused, are hand fashioned from 100% recycled wood and lined in pure, luxurious silk. 

The Fragrances

Using colors as inspiration, Le Cherche Midi worked with the best French fine fragrance perfumers to create a collection of unique, complex fragrances for the home that share the same sophistication and quality as luxury perfume. Le Cherche Midi created a palette of over 20 colors that were submitted to our fine fragrance perfumers for interpretation into home fragrance.  Each of these colors served as an inspiration for our perfumers.  Our current fragrances were selected from these submissions. 

Quite simply, better ingredients make better fragrances, and our fragrance oils are made from the same raw materials and ingredients that are found in luxury perfumes and colognes.  Because of their complexity, our fragrances have no names, instead using only colors and numbers as their primary identifiers.  Working with the original palette of over 20 colors that were initially chosen, Le Cherche Midi has assigned a number to each color and selected a collection of six to re-launch the brand.  In the future, we will continue to expand the line with new fragrances.

Le Cherche Midi Fragrances

Le Cherche Midi 01, the original and signature fragrance, brings to life a tranquil ocean-side retreat where swaying beach grass, sun-dried driftwood and summer herbs stir thoughts of sunset walks with family and friends.  Sicilian Bergamot, Sage, Lavender, Freesia, Mint, Oakmoss, Driftwood, White Amber, Sand Musk

Le Cherche Midi 05 invites you to an afternoon garden party where lovely dresses graze a fresh-cut lawn, crisp white linens cover the tables and the shade of a majestic pine cools the air.  Absinthe Flower, Cyclamen, Hyacinth, Fresh Cut Grass, Clean Laundry, White Lilac, Pine, Galbanum, Tonka Beans, White Musk

Le Cherche Midi 09 tells the story of exotic travels where the pleasures of cashmere throws, silk robes and cognac neat are brought together under a blanket of amber light. Lemon Meringue, Lily of the Valley, Night Blooming Jasmine, Whipped Lavender Crème, Patchouli, Soft Amber, Sandalwood, Vanilla absolute

Le Cherche Midi 14 awakens the senses on a clear spring morning where orange blossoms fill the air, rose buds begin to unfold and fresh leaves glow in the sunlight. Mandarin leaves, blackcurrant, Water Lilies, Rhubarb, Peonies, Rose Buds, Orange Absolute, White Cedar, Musk,

Le Cherche Midi 20 reveals warmly lit corners where whispered conversations are surrounded by dark wood, leather-bound books and a cedar-wood fire.

Armoise, Bergamot, Lemon Zest, Black Pepper, Rose Water, Soft Cedarwood, Sandalwood, Dark Amber

Le Cherche Midi 21 brings together a winter celebration with family recipes of golden spices and tart berries served with the warmth and laughter of childhood memories. -Grapefruit, Blackberry, Golden Saffron, Cardamom, Cinnamon Flower, Carnation, Sandalwood, Leather, Skin Musk

Ineke

Takashimaya

Ineke Rühland is a professional nose creating original fragrances in her independent studio in San Francisco. Born and educated in Canada, she moved to Europe in 1988 to embark on a career in the fragrance industry. After working in the Netherlands, England and France, she became fluent in three languages (English, French and  Dutch) and cultivated a love for creating complex and original scents along the way. While living in France, Ineke completed her formal perfumery studies at ISIPCA, the only university-level perfumery school in the world. She honed her traditional perfumery techniques with sojourns to Grasse, the city that spawned perfumery in France. Culminating her studies in Paris, where she still resides for part of the year, Ineke apprenticed at an esteemed fragrance house for three years before moving to San Francisco and eventually launching her own line in the summer of 2006. As one of a small number of classically-trained perfumers in the world, Ineke uses a time-honored approach to developing new scents. In her perfumery studio, she uses notes such as lilac, magnolia and peony for her eau de parfums. An enthusiastic gardener, she also derives inspiration from her collection of rare scented botanicals. Her passion for literature, design and the arts are reflected in every bottle. Through original photos, beautiful artwork and snippets of verse, Ineke crafts an intimate story for each scent. With four fragrances to date, the Ineke line caters to those with a sophisticated appreciation for unique fragrance.

For Canadian-born perfumer, Ineke Rühland, her eponymous fragrance line symbolizes her natural joie de vivre for perfume, design, art and literature. Indeed, her fragrances live up to that spirit. The Ineke fragrance line is refreshing and imaginative, provoking your senses with its mixed-media stories. Using lyrical titles that evoke stories of romance, nature, chemistry and courage, Ineke fragrances are rooted in her perfumery education and apprenticeship in France. The first four scents in the alphabetized collection are:

After My Own Heart - A romantic reflection on finding yourself in a place that feels just right. This scent is inspired by the romantic and wistful lilac flower, which to Ineke is the forgotten flower of perfumery.

Balmy Days & Sundays - A perfume about perfect moments on a relaxing Sunday; lying in the grass, breathing the smells of sweet scented flowers  and fragrant leaves.

Chemical Bonding - Playfully juxtaposing Chemistry 101 principles with human attraction, this scent combines a bright citrus opening with a powdery soft base, resulting in a flirtatious alchemy.

Derring-Do - A darkly romantic fragrance for men evoking spring rain, this is an ode to the literary rogue. Derring-Do is the Old English term for daring, with its requisite chivalry.

Evening Edged in Gold

Opens with bright top notes of plum and gold osmanthus, spotlights the night blooming flower, angels trumpet and midnight candy and it coses with rich basenotes of saffron.

Yosh

Takashimaya

I was not aware, untill recently, that Winter Rose

was a Botnaical" frgarance is and is 100% natural-

We will talk with Yosh next month about this goregous,

"Winter Rose"

Fantasy Flights-What do you notice first when you

encounter a fragrance? What lingers with you and

how do you describe the experience? Perfumer Yosh

Han invites you to a Fragrance Flight, an olfactory

equivalent of a wine tasting that will delight and

enlighten perfume connoisseurs. Take an aromatic

journey through a full spectrum of scents from

Yosh's Luxury Elements Collection, and arrive at a

new appreciation of rare botanicals and evocative essences. 

Each fragrance from Yosh Han's Luxury Element's Collection corresponds to chakra energy and numerology. Aromatic Attunements balance and harmonize your energy fields.

The Y O S H Luxury Elements collection combines the art of perfumery with aromachology, the therapeutic properties of essential oils. Each multi-faceted scent is hand-crafted and blended by Yosh using the finest ingredients from all over the world, then assigned a numerical value that corresponds to the fragrance family (such as floral, fruity, green, woody, and spicy) and resonates with principles of Chakra energy and numerology.  Chakras are energy centers in our bodies according to yoga philosophy. Each perfume has a specific chakra that it resonates with to balance and enhance optimal well-being. Numerology reveals certain character traits in each person and can be used to determine lucky days for major activities in life like travel, moving, marriage and investing. This collection of fragrance embraces subtle energies as a way to more fully enjoy the vibrational power of perfume. The fragrances in the Luxury Elements Collection incorporate Yosh's personal philosophy of spiritual connection and energetic alignment with a core message to bridge inner beauty and outer beauty together.

This collection is not just a sampling of scents—it's a full wardrobe of perfumes. Winter and summer scents have different weights and textures just as textiles do, and a sunny day scent has an entirely different appeal than a sumptuous evening perfume. But these scents do more than respond to changing climates—they also have the power to set moods and capture passing fancies. Soft, sensitive moments call for a fragrance evocative of dreamy landscapes; whereas flirty, playful whims demand a scent that is enchanting and glamorous.

For the Men

Panama

A sophisticated blend of citrus, tobacco flower and warm spices. Masculine and refreshing, Panama 1924 blends the clean scents of the outdoors to create a classic, timeless fragrance. Contemporary, refined, dynamic and elegant.

From the narrow, cobble stoned streets of Naples, comes the luxurious Panama 1924 collection from Boellis. In 1924, Antonio Boellis opened his now famous barbershop in Naples, Italy. Antonio was best known for his classic haircuts, smooth shaves and engaging personality.

Throughout eighty years, Antonio's family has carried on his legendary craft of male grooming, making Boellis today a brand name synonymous of Italian tradition, legacy and quality.

The Panama 1924 collection, named by Michele Boellis in homage to his grandfather Antonio's signature Panama hat, includes high-quality shaving and grooming products. The line is hand-made in Naples in the original barber spa shop using traditional methods and recipes dating from the beginning of the century.

The Panama 1924 Collection embodies the magic of Naples and Antonio's legend.

The luxurious collection has been fashioned for the sophisticated, debonair man who values unmistakable style, quality and heritage.

Ulrich Lang Anvers 2

Review

By Mark David Boberick

Ulrich Lang, a former L'Oreal executive and New York

art publisher recently launched Anvers 2, his second

fragrance for men this past Spring. The inspiration for the

scent came from a photograph of Belgian art dealer

Roger Szmulewicz by Katy Grannan. Roger has become

"the face of Anvers" and is featured on the packaging.

The idea of using art as inspiration is nothing groundbreaking

in the world of perfumery. Ulrich Lang, however, brings

this idea into deliciously modern territory by using photography

instead of more traditional art forms such as literature or painting.

The scent opens with a burst of Lemon and Lime and

quickly evolves to feature rhubarb, a most welcome top

note, especially in what seems like the year of violet leaves.

The Rhubarb is a delicious touch to the zesty, invigorating

opening. The cypress and the black pepper keep the opening

in a neutral territory – neither warm nor cool – but it also

keeps the scent from smelling "squeaky clean."

We eventually get to the heart of the fragrance where sensual cedar and smoky sandalwood emerge paired with delicate Bulgarian rose. There is an interplay of other florals here, none of which are overpowering or even highly discernable. It is a well blended mix of jasmine, lily, and mimosa - flowers which can send some running, but here they are rendered in an extremely androgynous fashion giving this scent a definite unisex feel. While it is considered a men's fragrance, the many women who have smelled this on me have pried the sample vial from my hand and applied it to themselves. The drydown does not come quickly, which is just as well because the warm heart is where this fragrance truly shines. Contemplative and confident – the base reveals itself as a gorgeous blend of musk and vanilla.

Anvers 2 is a fantastic, extremely unisex scent with very decent lasting power. There are many perfumes out there that have design concepts that are much larger than the perfumes themselves. This is not one of them. Ulrich Lang's forward thinking idea of photography as inspiration is a most welcome addition to the world of perfume marketing. The moral of the story is not forced upon the wearer, for it is up to the wearer to draw his own conclusions. Looking at the stunning photo of Roger, his dark attire, the autumn environment, the expression, the body language, the floor of fallen leaves – what does the wearer take away from all of this? The possibilites are endless.

Septimanie Perfumes Pavillon des Fleurs

Septimanie Perfumes/ Pavillon des Fleurs is a new independent luxury perfume house founded by Jeanne Weber.  This past year she launched a sensuous white floral fragrance, Pavillon des Fleurs, inspired by the ethereal scent of a nocturnal garden.  Underpinned with jasmine absolute and ylang, notes of orange blossom, Lily of the Valley, English leather and Iris, and a barely suppressed hint of cloves, it bears a striking resemblance to flowers in full bloom.

This new niche company captures the scent of a romantic

garden in a luxurious white floral perfume.  The company

was named after Septimanie, the Comtesse d'Egmont Pignatelli,

who was the daughter of the Duc de Richelieu and lived at

Versailles during the reign of Louis XV.  Despite being a

ravishing beauty, she was celebrated more for her intellect

and her support of key figures of the enlightenment, including

Mozart and the philosopher Rousseau. 

Jeanne Weber designs masterful pleasure gardens and

she believes that "The fragrant garden is sublime, and

particularly so in the evening. I sought to create an irresistible ...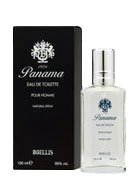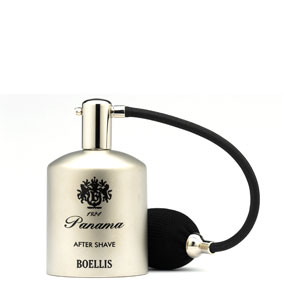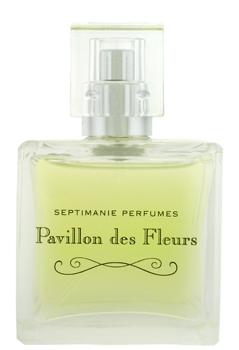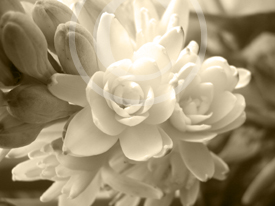 Miller et Bertaux

Takashimaya carries the TWO new frgarances from Miller et Bertaux

NEW Shanti Shanti - rose petals, sandalwood, patchouli leaves and Iris

Notes of: Bulgarian rose petals awaken your senses in this sparkling and feminine Eau de Parfum. The precious aspect of iris extract is juxtaposed with warm spices of cardamom, patchouli and Indian sandalwood.

NEW A Quiet Morning -

Saffron and turmeric. Basmati rice and palm flower, as well as a faintly gentle essence of orange blossom give this Miller et Bertaux creation its mysterious and strangely wonderful character. A bewitching fragrance with woody overtones and intoxicating spices from as far away as the moon

Miller et Bertaux a visionary design house in Paris whose modern, unique clothing line, art and accessories is now showcasing a new parfum line. Miller et Bertaux fragrances for the body and soul, dedicated to those who understand the difference between having to make a statement and simply being the statement.

These chic moderne French designers and perfumers have garnered a devoted following for their clothing and accessories as well as these exciting fragrances.

Miller and Bertaux drew on their irrepresible wanderlust while developing these scents. So, you'll recognize shades of incense from Mexico, roses from the Orient, and flower petals of all kinds in these minimalist, precise, poetic items.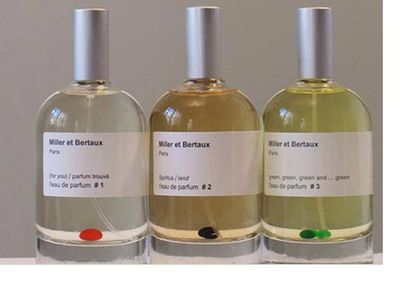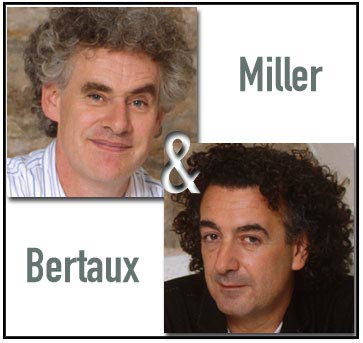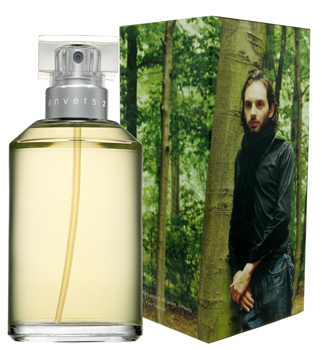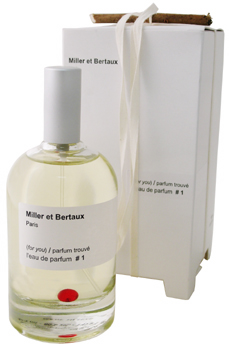 These tres hip French designers/perfumers have garnered a devoted following. Miller and Bertaux drew on their irrepresible wanderlust while concocting these treasures - in particular the haunting incense discovered in Mexican churches, the roses of the Orient, the petals of flowers everywhere… and just as they're fond of mixing fabrics, these scents were designed with that mixy-matchy blending/layering practice in mind.

Tres Miller Bertaux.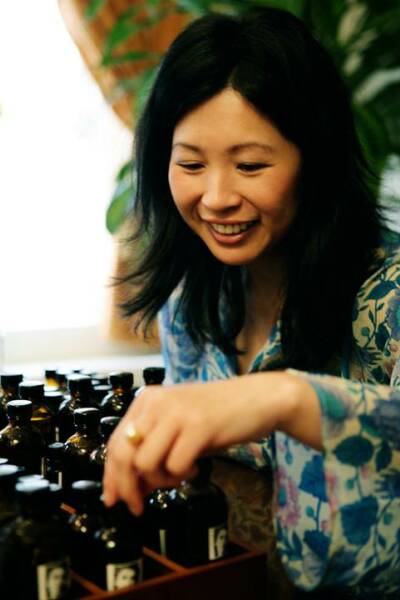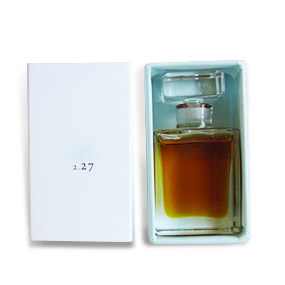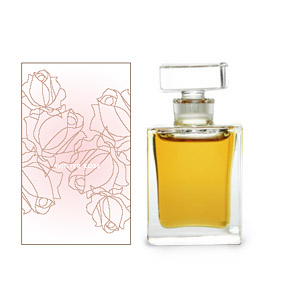 Carthusia

Legend has it that in 1380 the father prior of the Carthusian Monastery of St. Giacomo was taken unaware by the news of the arrival of the Queen Giovanna D'Angio' to Capri, and so made a flower arrangement with the most beautiful flowers of the island. The water was not changed for three days and, when the flowers were thrown away, the prior noticed that the water acquired a fragrance unknown to him. He went to the father alchemist who traced the origin of this scent back to the "Garofilium Silvestre Caprese". That water became the first perfume of Capri.

History, on the other hand, relates that in 1948 the prior of the Monastery discovered the old formulas of the perfumes and, by permission of the Pope, revealed them to a chemist of Torino, who created the smallest laboratory in the world and called it "Carthusia", i.e. "Certosa".

The tradition is now being continued and the limited production means being able to use the same methods as the Carthusian monks. All the preparations are made from genuine products of high quality and even the end product is hand-wrapped. The essence derived from rosemary picked on Monte Solaro is used in men's products, while the essence of Capri wild carnation is used in women's fragrances.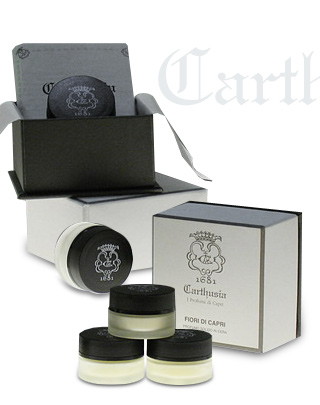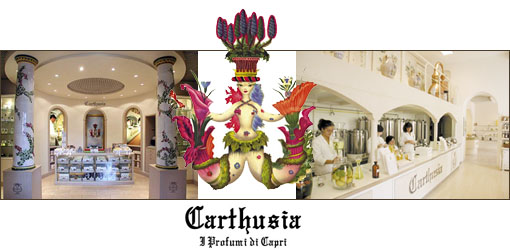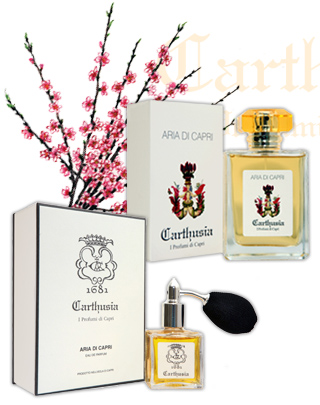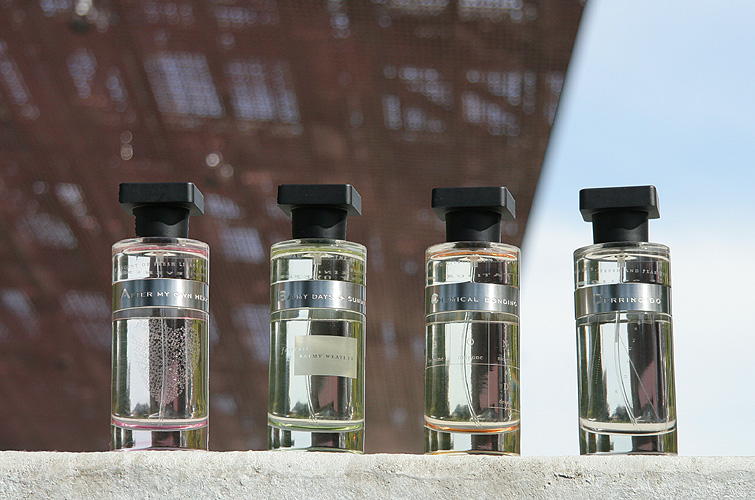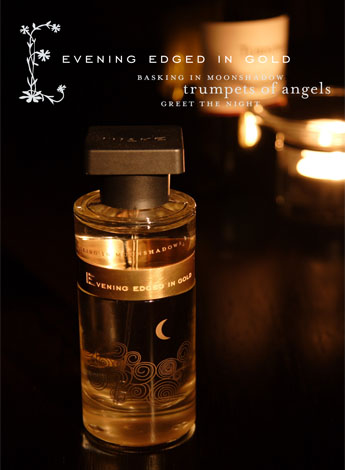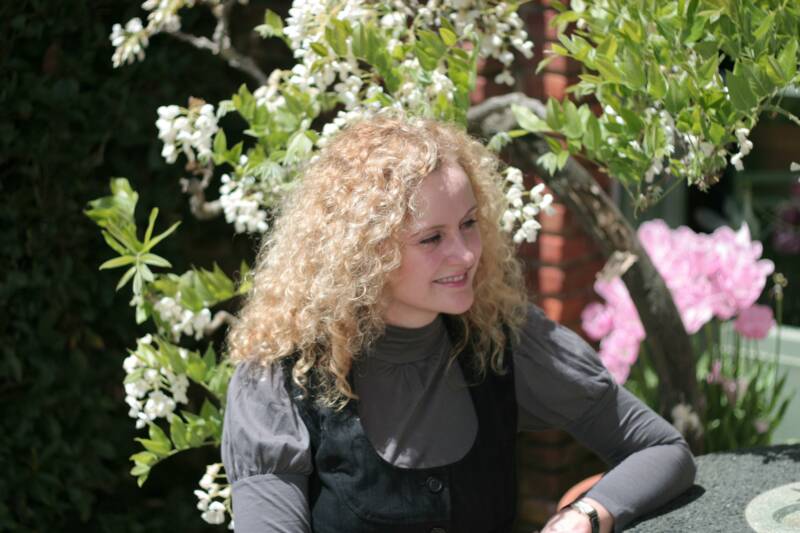 Interview with Jeanne Weber

Pavillon des Fleurs / Septimanie Perfumes   

by Raphaella

Jeanne, can you tell us briefly about yourself?  I grew up in Boston, have lived in

New York and Washington D.C., and now reside and work in the Philadelphia area

designing pleasure gardens. 

Could you please tell us a bit about your background leading up to your career in perfumery?

After studying art history in college I found I could not make a living wage at either a gallery or a museum, and took a job at L'Oreal assisting the president's assistant.  I was moved upstairs to their Lancome division  where I initially ordered components from vendors and later coordinated the approvals and signoffs for each element of product development, from inception to launch.  It was an ideal education.

What inspired you to create this fragrance?  I was inspired by old-fashioned, classic French florals that disappeared from the market, evidently because they were too costly to produce, and was never completely happy with any modern fragrance for more than a year or two.  I think your readers will identify with the often fruitless search for the perfect scent.  The niche perfumers have revolutionized our options as there are now countless remarkable fragrances to choose from.

What differentiates your fragrance from other fragrance lines in the niche market and makes them special?  It is probably the only one that has been macerated for fourteen weeks!    Also, the jasmine and ylang notes are both uplifting and aphrodisiacal. 

Tell us about the fragrance you've created.  I was adamant that the scent be as genuine as possible with the scent of real flowers and insisted on using a great quantity of natural absolutes despite the formidable cost.  I did not want a perfume that changed considerably over time or on the skin and I did not want a musky or woody finish.  I wanted it to be mistaken for a scented garden, and in fact I have achieved that.  My greatest achievement is hearing the number of women and men who tell me they absolutely love it. 

What did you find was the hardest thing about the entire process in creating perfumery and dealing with the business aspect?   The most difficult aspect was finding beautiful packaging components in manageable quantities.

How did you discover the world of fragrance?  Through the women in my family:  my mother has always worn Joy, her mother wore only Chanel No. 5, and my other grandmother wore Bal a Versailles. 

There must have been a defining moment that led you to create this and go public with it, what was that? I still don't know what possessed me to begin the creative process.  I took all my design earnings and funneled them into the perfume, and  when told my mother about it after I had taken the first steps, to my surprise she actually encouraged me.  In fact, all my family and friends supported my somewhat impulsive endeavor.

Tell me what you love about fragrances.  I think fragrance expresses a key part of one's identity and in time becomes as recognizable as your features.   I love the idea of a signature fragrance and the strong association it creates between you and that scent.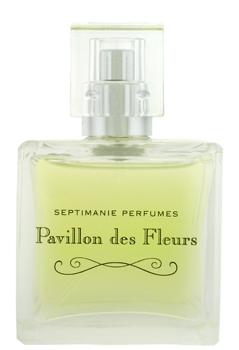 All rights reserved 2006-2009.  All content belongs to Sniffapalooza Magazine.

All articles by individual writers and contributors, understand and agree that each article that is accepted by the Editor for publication; becomes the property of Sniffapalooza Magazine for the sole purpose of publication for Sniffapalooza Magazine. Articles may be archived for permanent use on the web site for Sniffapalooza Magazine and for future issues.  All articles remain the property of Sniffapalooza Magazine for display purposes only.