Septimanie Perfumes Pavillon des Fleurs

Review by Raphaella Barkley

Interview of Jeanne Weber follows review.

Septimanie Perfumes/ Pavillon des Fleurs is a new independent luxury perfume house founded by Jeanne Weber.  This past year she launched a sensuous white floral fragrance, Pavillon des Fleurs, inspired by the ethereal scent of a nocturnal garden.  Underpinned with jasmine absolute and ylang, notes of orange blossom, Lily of the Valley, English leather and Iris, and a barely suppressed hint of cloves, it bears a striking resemblance to flowers in full bloom.

This new niche company captures the scent of a romantic garden in a luxurious white floral perfume.  The company was named after Septimanie, the Comtesse d'Egmont Pignatelli, who was the daughter of the Duc de Richelieu and lived at Versailles during the reign of Louis XV.  Despite being a ravishing beauty, she was celebrated more for her intellect and her support of key figures of the enlightenment, including Mozart and the philosopher Rousseau. 

Jeanne Weber designs masterful pleasure gardens and she believes that "The fragrant garden is sublime, and particularly so in the evening.  I sought to create an irresistible and intoxicating bouquet of floral notes which would perpetually lift my mood and that of others around me, much as a garden would".

"Luminous and supremely sensual, Pavillon des Fleurs is a radiant bouquet of white flowers laden with aphrodisiacal notes.  Designed to conjure the sublime experience of the fragrant garden and achieved with great quantities of natural absolutes, this sonata of white flowers pleases and delights with the aroma of living flowers."

Pavillon des Fleurs is a stunning fragrance. There are so many white floral fragrances appearing on the market and as a collector of "white floral" fragrances, sometimes you pause.  I myself have become quiet jaded with so many new releases on the market, the majority of them so incredibly uninspiring.

Pavillon des Fleurs is my new inspiration.  It is a shimmering white floral and a beautiful fragrance that is truly unique in that it smells very fresh, expensive and rich, without appearing overly sophisticated and cloying.  I have never smelled a fragrance that was so green, green as a fragrant garden after a rain and the white flowers shine forth; like a bright full moon or like a burst of intense spring, knowing it will heat up as hot as any southern summer ever could.

Jeanne Weber is to be congratulated in producing such a beautiful fragrance on her first venture, an enviable feat that many do not accomplish. It is simply scrumptious.  

This fragrance is available at
Aedes
and Takashimaya in
New York City during Fall Ball.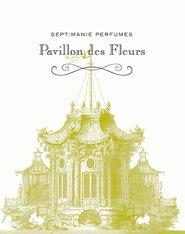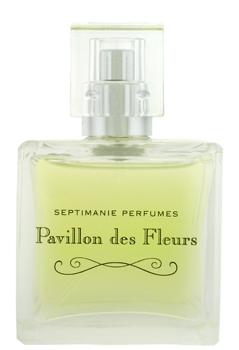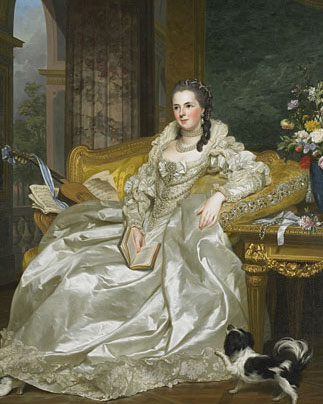 Septimanie, Comtesse d'Egmont Pignatelli 16 years old, becoming the Comtesse d'Egmont Pignatelli.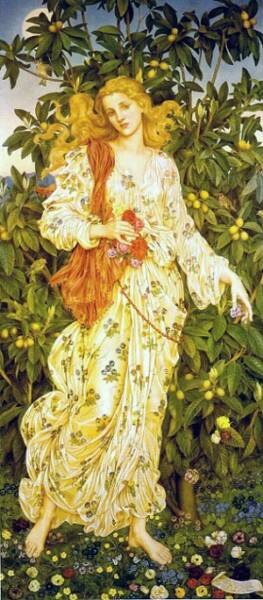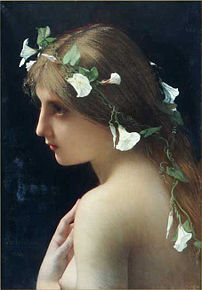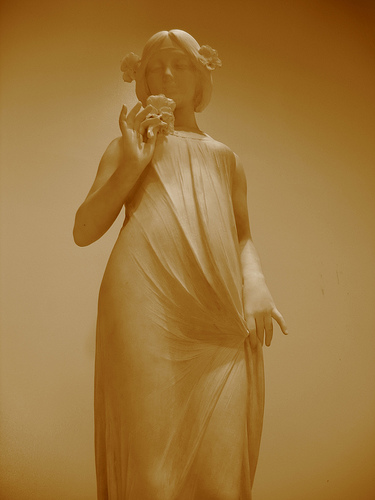 Interview with Jeanne Weber

Pavillon des Fleurs / Septimanie Perfumes   

by Raphaella

Jeanne, can you tell us briefly about yourself?  I grew up in Boston, have lived in

New York and Washington D.C., and now reside and work in the Philadelphia area

designing pleasure gardens. 

Could you please tell us a bit about your background leading up to your career in perfumery?

After studying art history in college I found I could not make a living wage at either a gallery or a museum, and took a job at L'Oreal assisting the president's assistant.  I was moved upstairs to their Lancome division  where I initially ordered components from vendors and later coordinated the approvals and signoffs for each element of product development, from inception to launch.  It was an ideal education.

What inspired you to create this fragrance?  I was inspired by old-fashioned, classic French florals that disappeared from the market, evidently because they were too costly to produce, and was never completely happy with any modern fragrance for more than a year or two.  I think your readers will identify with the often fruitless search for the perfect scent.  The niche perfumers have revolutionized our options as there are now countless remarkable fragrances to choose from.

What differentiates your fragrance from other fragrance lines in the niche market and makes them special?  It is probably the only one that has been macerated for fourteen weeks!    Also, the jasmine and ylang notes are both uplifting and aphrodisiacal. 

Tell us about the fragrance you've created.  I was adamant that the scent be as genuine as possible with the scent of real flowers and insisted on using a great quantity of natural absolutes despite the formidable cost.  I did not want a perfume that changed considerably over time or on the skin and I did not want a musky or woody finish.  I wanted it to be mistaken for a scented garden, and in fact I have achieved that.  My greatest achievement is hearing the number of women and men who tell me they absolutely love it. 

What did you find was the hardest thing about the entire process in creating perfumery and dealing with the business aspect?   The most difficult aspect was finding beautiful packaging components in manageable quantities.

How did you discover the world of fragrance?  Through the women in my family:  my mother has always worn Joy, her mother wore only Chanel No. 5, and my other grandmother wore Bal a Versailles. 

There must have been a defining moment that led you to create this and go public with it, what was that? I still don't know what possessed me to begin the creative process.  I took all my design earnings and funneled them into the perfume, and  when told my mother about it after I had taken the first steps, to my surprise she actually encouraged me.  In fact, all my family and friends supported my somewhat impulsive endeavor.

Tell me what you love about fragrances.  I think fragrance expresses a key part of one's identity and in time becomes as recognizable as your features.   I love the idea of a signature fragrance and the strong association it creates between you and that scent.

What was your favorite fragrance growing up?  Calandre by Paco Rabanne, which my father brought back to me from Paris. 

What is the most amazing fragrance you have ever smelled?  Is it rude to say my own?  It makes me smile.

Which fragrance do you wish you had created?  Ormonde Man.

Why do you think so many women and men are part of this fragrance explosion, especially the niche and natural trend?  We have grown weary of commercial fragrances that barely register because they are either too common or unpleasant.  Rather we are driven to find something truly astonishing and completely individual.

Where Pavillon des Fleurs / Septimanie Perfumes available at?  

Aedes de Venustas and Takashimaya in New York, Algabar in Los Angeles, First in Fragrance in Germany, and a concept store called Beauty Cool in Barcelona.  It will soon be available in Nashville at White House, an elegant boutique being opened this fall by the British supermodel, Karen Elson.

You can visit Pavillon des Fleurs / Septimanie Perfumes at Aedes de Venustas and Takashimaya in New York during Fall Ball.