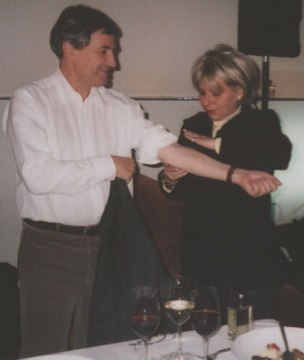 Having fun "sniffing" with Jean Claude Ellena

Marian Bendeth and her company, Sixth Scents consults on a 360 degree level with all aspects of the fragrance industry.  She is a Judge on three Fragrance Award Shows; wrote the Accredited Perfumery course for Canada; was a guest of the French Government for twice touring the perfumery regions of France; appeared as a Guest Speaker at the American Society of Perfumers and is recognized globally for her contributions to the industry.  She is a Fragrance journalist and is also interviewed by the international media on fragrance-related stories, television documentaries on scent, working with perfumers, Fragrance and Flavour Houses, Guest lecturer, trainer, writer and Judge.  Winner of three Best Media Editorial Awards with Basenotes: 2007, 2008 & 2009 at the Canadian Fragrance Awards.  She has also provided perfume training to: Buyers, Retailers, Vendors and private industry professionals.  Bendeth also offers Special Appearances as Guest Lecturer for: Parfums Hermes, Chanel, Jean Patou, Narciso Rodriguez, Sisely, Gucci, Jean Paul Gaultier, Gwen Stefani, Calvin Klein, Kilian Hennessey, Etat Libre d'Orange, Juliette Has a Gun amongst many others.  Ms. Bendeth contributed to two fragrance books and has been featured on multiple International television, radio, newspaper, magazine, online sites and perfume documentaries as a Global Fragrance Expert.

President, Emeritus, Annette Green (Right) with Marian Bendeth sniffing........

MB: Thank you Raphaella.  Well, winning my first media Award was a

shock as I really see myself more as a fragrance correspondent or

interpreter of scents.  When I won my second, it was another unexpected

thrill and now winning my third Awards with Kilian and Basenotes, I feel a

lot more confident but I still have a lot to learn.  Kilian was most generous

with his time and answers and we share this Award with him.

It is true that at the age of three your grandmother gave you a bottle

of 4711 Perfume and by the age of 4 and a half, you bought a

miniature of L'Air du Temps by Nina Ricci?  

MB: Yes!  Something clicked inside and I became an obsessed child that

grew into an obsessed adult!  I was told that I cared nothing for dollies

or toys.  From that day forward, every penny has been spent

on perfume blends and their impact.

You are a connoisseur and a collector of rare blends, please tell us

about this.

MB: Well, my passion is to find, collect, own and wear rare blends with

rare ingredients that I know will suit my personal body chemistry and reflect

my personal tastes.  Being discerning with scent is really no different than

having a "style".  Knowing yourself and the many aspects of who we are

and how we wish to be perceived, is always fun.  I do this in my career

with the general public; create a fragrance wardrobe that reflects the

customer's tastes.  I would rather see their name on their bottles than the

other way around.  Although I do represent the fragrance industry as a whole,

I am a consumer advocate.

Which fragrances have been most important in your life? 

MB:  It would require big dentures to bite off that question.  Each and

every scent is a bookmark in my life dating back to the age of three.

For example, Madame Rochas is travelling back to London,

England to visit my family.   J'ai Ose – Guy La Roche is celebrating

a big Birthday, Lanvin's Arpège is my Mother tucking me in at night.

Yardley's Leather is my father peering at me over his nightly paper

while I babbleon and he looks at me with a flustered look. There are

iterally thousands of scents that have very poignant memories in my life.

Are there any new upcoming scents for 2009 that interest you personally?

MB: In my work, I have to be as open as humanly possible to all upcoming scents.  What I like/love personally has no bearing when it comes to my client's tastes and body chemistry.  As they come into my possession, I have to "date" them, like a new relationship, get to know their characteristics, foilables,

and strengths over a period of time and then become a fragrance broker between my clients' tastes, lifestyle and chemistry.  There are many that I do like coming up, some I have signed an embargo agreement that I cannot publicly mention until launch date.  I love all scents! New and vintage!  I am not a slave to trends, which is too limiting for me.

"Fragrance makes the loudest impact on a subliminal level."- MB

What do you really think of so many launches each year? Is there room for everyone to survive?

MB: The proliferation of flanker brands has Tsunamied our shelves to packed capacity.  Not unlike

British Radio stations, the cream will always rise to the top though because it is what the

customer prefers and purchases that will determine longevity for a brand.  We are now seeing

many kinds of perfumes now from Niche to Natural and Esoteric too.  Some have resurfaced

such as Feminitè du Bois (Serge Lutens) after public requests.  We are still in an Economic

crisis though and times are not as generous as they used to be.

Years ago, you were asked "If you could bring back one discontinued fragrance,

which would it be and why?" and you answered "I would love to smell the original

"Crêpe de Chine" by Milot and "Green Water" by Jacques Fath. 

Does this still apply today? Any new thoughts? 

MB: Well, I found my reformulated Green Water but would also love to smell some vintage

scents such as Pretexte, Le Dandy,Pastorale de Renoir or the original formulations for

Balmain's Vent Vert, Diorama, and Charles Blair – don't get me started!!

Marian, I read that you love the "idea of fragrance being motivational and inspirational". 

Please talk to us about the "rhythm and flow" of fragrance and its possible correlation

with music. 

MB: I love to use this analogy when describing scents.  You are having friends over for a party.

The kind of music on yourIPod or CD player will set the tone for the party.  Rock music might

say "heh, come sit on my kitchen counter and kick back with some beer – straight from the bottle.

Jazz – feel sophisticated, cool and laid back.  Classical might say, look at my refined table

with matching china, candles and elegant lighting.  In terms of fragrance, you are the party

and your fragrance is your moving background music.  Your scent sets the tone for how you

wish others to feel about you in your space. Your fragrances have a flow from beginning to

the last drop on your skin.  How you connect emotionally with your scent and how it affects

your psyche makes all the difference between the words "nice" and "knee-dropping".

You have dedicated most of your formative years in the fragrance industry and for

the past twenty-five years as a Fragrance Expert you have ascertained the differences

in body chemistry.  Talk to us about body chemistry and why it does exist.

I understand that this topic is your specialty as well and is highly controversial.

MB: Each of us possesses body chemistry that is as significant as DNA. Every single person on the

planet wears their fragrances with slight or severe degrees of differences.  There are many factors that

can affect this such as diet, PH balance, etc.  It has been my mission to smell as many different kind of skins and scents – well over 4 million wrists and counting, and anyone who disagrees with this is not being realistic.  There can be huge and disparate differences from one person to the next.  Let's face it, if someone in the industry had to create scents based on these facts, it could be very frustrating to please everyone's tastes so they must create scents that hopefully hit their targets in each Country. 

In terms of body chemistry, I cannot reveal how my formulation is created publicly, and I could never train someone to do my work.  It is part research based on hundreds of thousands of consultations with the fragrance public, part intuitive and mostly experience fine-tuning my nose to pick up specific notes or accords with different body chemistries.

Marian, what is a Fragrance Expert and what do you do exactly?  There also seems to be a definite job description to each title that you have-how do you separate it all?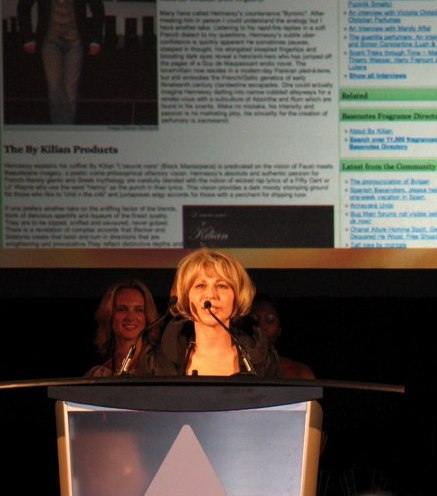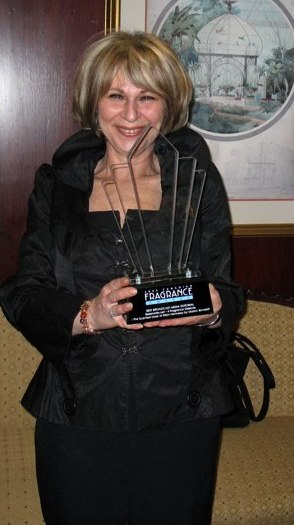 Marian Bendeth, accepting the 2009 Canadian Fragrance Awards; Best Media Editorial Awards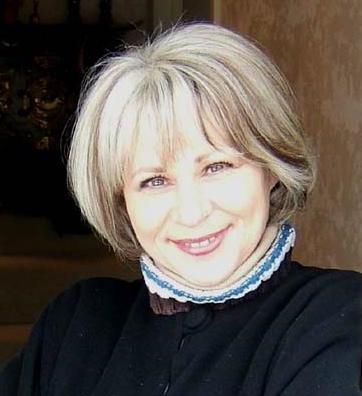 "The pursuit of fragrance is merely humanity coveting

and cloaking ourselves in the very best of nature". - MB

Sniffapalooza Magazine

Interview with Marian Bendeth

Global Fragrance Expert

and owner of Sixth Scents

Marian Bendeth is President of Sixth Scents and is a Global Fragrance Expert and consultant to many top perfume houses.  She is truly a pioneer in the fragrance consulting industry.  She is the first person anywhere in the world to provide the public and perfume houses with personalized fragrance wardrobing consultations based on body chemistry, psychology, fashion sense, environment and lifestyle as well as psychological profiling on over 2,000 plus fragrances. Since entering into the fragrance industry in 1983, and opening Sixth Scents in 1989, Bendeth can still claim this exclusive role. She is the only one in the world to provide direct consulting to everyone involved in the fragrance industry from Perfumers, Fragrance and Flavour Houses, Retailers, Vendors, Distributors, Buyers, Marketers, Trainers, the Media and the General Public. Marian Bendeth truly has a rare business and a rare gift. 

It is my honor to interview and introduce a dear friend as well; someone that I consider "the real deal" in the fragrance industry.  Not only is she highly respected in the fragrance industry, she is extremely knowledgeable about fragrance and has a formidable amount of friends and influence in the industry.  On a deeply personal note, Marian is the most humble woman I have ever met and she has changed the way that I think about fragrance.  You can find more information on
Marian Bendeth here, as well as links to her various award-winning articles
.  - RB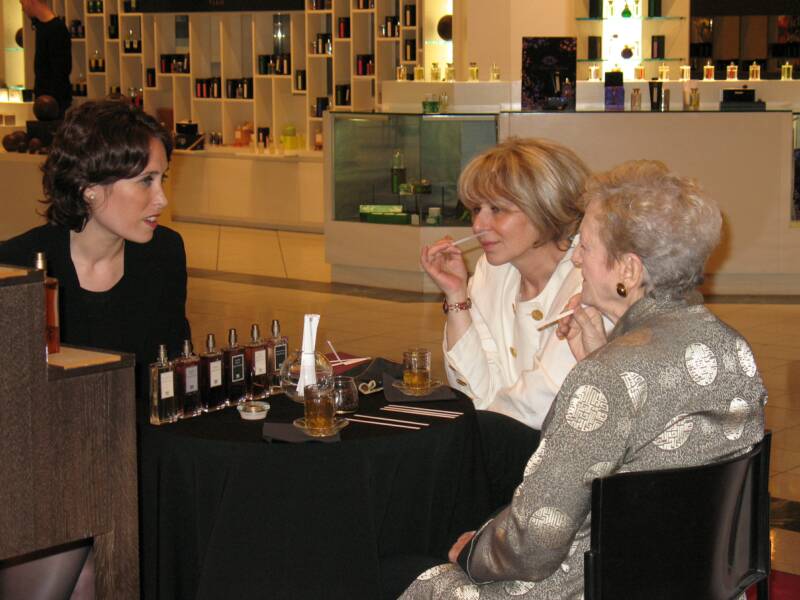 MB: Oh, I always dread that question. Many Fragrance Experts have different domains that they specialize in.  I originally pioneered 'Sixth Scents" with two services.  I feel I have a "sixth sense" in knowing which fragrances suit people.  I had been working with many fragrance houses as well as collecting and researching blends since a young age.  This naturally snowballed into so many different areas. I guess you could call me a Swiss Army Knife in the world of Perfumery.  What is wonderful is that one feeds into the other. 

I have to be connected in all areas to be connected to the fragrance industry.  I have to listen to salespeople to understand what areas they require which helps me in my Training seminars.  I need to keep up-to-date to keep up when I am being interviewed by journalists.  Working with

Perfumers gives them a better understanding of the fragrance consumer and vice-versa.  Separating them all is actually quite easy.  I have to wear many hats as an Expert but never lose sight of the magic of perfumery.  Sixth Scents is very rare in this medium playing multiple roles on all levels with multiple fragrance tentacles. My journey has been very exciting and rewarding and I am still learning each and every day!

What is your take on how the industry has changed from when you first entered to today?  The fragrance industry has changed in so many ways on so many different

levels over the past twenty-five years.

MB: Behind the closed Perfumery doors in the early 80's, the fragrance industry was an exclusive industry which was untouchable.  If one wanted to contact an industry person, you would have research names– a very difficult task without a contact list.  One would then write a letter through the distributor and pray it would be forwarded.  If you were lucky, you might receive a polite reply, via mail from a PR person thanking you for your interest. It was commonplace to see a Grandmother, Daughter and Grandchild all wearing the same scent.  Major retailers had incredible incentives such as complimentary gift sets and miniatures of all sizes to entice the consumer.  Men could also receive as a GWP or PWP, amazing extras such as bags, umbrellas, beach towels, full sized lotions or skin toners.

All of that has changed considerably.  Today, samples are being sold in some cases.  Luxury items such as soaps, dusting powders and body oils have gone the way of the Dodo Bird.  Flanker brands and many celebrity scents now compete with Niche and Designer brands.  The Pharmacies, chain perfumeries and grey markets are taking up the Lion's share of sales in some countries.

Can you explain what the "grey market" in fragrance means?

MB: Ah, well, it can mean a number of things.  If opened, some fragrances do have a shelf life.  Some companies may sell excess stock to third party distributors which can end up on the wagons in your local malls or inexpensive perfumeries in strip malls. 

"Fragrance can pull on our heart strings and  transport us to immediate pleasure or pain" -MB

Can you explain the different kinds of scents on the market?  Is one style better than another?

MB: First, I have to clarify, that dating ("it smells like my Grandmother) critiquing or pigeonholing a scent based on its launch date or name can be a very narrowing experience thereby cutting off the customer's exposure to some very clever scents. 

That said there are: Mass scents – those that appeal to the masses with a lesser-expensive price point. Then, we have Masstige which is one step up and a cross between the next category, Prestige which includes fragrances from Designers Joaillerie and Accessory brands. Then comes the two niches…one outer, for example, established houses such as Penhaligon's, Fresh, L'Artisan Jo Malone and Creed.  Then, there is the inner-Niche –

a burgeoning market of scents put out by well-known and completely unknown companies.  This latter market is now competing with the Masstige brands in releases.  We also have the vintage, limited edition, Natural and Organic markets as well.  The choices are unlimited.

What is important to me is my customer and how a fragrance reacts and affects them.  Be it Mass or Inner Niche, Prestige or a lesser-priced line, the very scent one thinks they abhor might actually smell spectacular on their skin but they will never know due to prior stereotyping.  Any true fragrance aficionado should be as open to all possibilities and experiment and research all scents as much as possible.

I am sure that you have noticed that ever few years, we see a certain note in some of the new releases; this year it is Oud. A few years ago it was Vanilla, and then it was melon and so on. What do you think of that?  What do you think the next new "trendy" note will be that we may be seeing in fragrances?

MB: The word "trends or trendy" are great! For five minutes….because there will always be a new trend to take its place.  If Oud fascinates you, experience as many as possible from different companies.  I liken this to listening to different interpretations of classical music from different arrangers.  Same music, different interpretation. 

What is your advice to people that wish to be a true part of the fragrance industry?

MB: As I stated earlier, the impact of groups such as

Sniffapalooza has really opened the doors and invited a

lovely dialogue with industry professionals but, the industry

is not like "American Idol" and the doors are still firmly

closed to outsiders to a great extent.  There are

multiple industries within the fragrance industry.

Each has a different purpose and target.  In terms

of Perfumery, there are Perfumers, then Perfumers,

then Perfumers and then Master Perfumers.  Each

performs a different function of style of Perfumery,

some Creative, Technical, Personal care, Fine

Fragrance, Evaluative etc.  Each person has spent

many years honing their skills.

There are also areas which focus on flaconnage, raw

materials, labels and packaging, processing, harvesting,

distributing, sales; marketing…the list goes on and on. 

We stretch across the globe and each industry plays a

major role in the creation and production of a scent.

Taking courses, reading, networking, investing in blends can

only assist your learning journey.  I am only aware of a rare few who have hopped over from passion to joining the industry.  In order to be a Perfumer, one has to be part Scientist, part intuitive artiste, part chemist, part poet and part philosopher to compete in an already saturated market.  I do want to add, taking a three day/week course in Perfumery does not make one a Perfumer but it certainly enlightens one's knowledge.

What do you think of the impact of bloggers, Twitters and fragrance websites have had on the industry, if any?

MB: There have been many significantly positive and conversely negative ramifications for the fragrance industry and the net.

Please let me preface this by stating that fragrance devotees on the internet, bloggers, websites, critics and Twitterers are akin to people on a densely populated small island, all in varying degrees of passion for our industry and what it has to offer.  The majority of bloggers and those who post appear genuinely fascinated by perfumes and their history.  The internet has been a fabulous vehicle to unite lovers of the art.

Some follow the works of Perfumers like groupies at a Rock Concert!  Groups such as Sniffapalooza, Basenotes and a few others have opened the doors to these creative people for a one-on-one chat which is amazing and revolutionary.  Perfumers and Marketers can glean all kinds of information from this, possibly affecting the way they develop and market scents.

This island, the internet, lies off the real mainland (which is mainstream retailers) around the world.  These consumers may not be as fascinated or passionate as that of their neighbours. They still make up the bulk of spending dollars globally though.

The positive contributions have come from individuals and particular websites that seek out the truth in perfumery, the industry and the story behind certain scents.  Some fragrance bloggers and websites do a better job than some media journalists because their passion is evident but, I do hold each and every critic to the standards of an Evaluator or qualified Journalist if they plan to publish publicly.  There is a difference between a review and a critique.  One's

opinion is just that, one opinion and yes, those who critique are Experts of their own likes and dislikes alone. Everyone is entitled to express their own opinion but it appears some may be seeking other kinds of attention.

When I view individuals who were once bloggers, now, changing their titles to self-appointed ones such as: Journalist, Perfume Expert or Perfumer without the credentials – this worries me.  Some have referred to me as a "Nose" which is untrue.  I have never claimed to be a Perfumer although I do consult with them and have the greatest respect for those who have earned that right..

It is my personal opinion that at times,  I am witnessing a wild horse race of who can release names of un-launched perfumes first.    I also wince when I witness some slam or berate some scents, Perfumers or others.   Attaining valuable knowledge shouldn't be reflected through fame by association where one can hobnob with someone in the industry or make the purchase of multiple fragrances a competition. Expressing one's opinion should be justified and discussed.

Isn't this supposed to be about the love of fragrance?   Sharing knowledge in a dignified manner and respecting one another in any medium can only reflect our shared passion.  Sometimes, it is good to agree to disagree.

The impact of fragrance in one's life has richer and deeper meaning because it

defines our sense of self, ingrains its very oils and is steeped in our memories. 

Being new, vintage, hot or not for me, has zero bearing on perfume "coolness". 

Knowing what to wear and how to wear it in the right environment is hot.  Being

near someone who smells as good as they look or makes us feel – those

enigmatic emotions are what this industry should be predicated on.  I work

with blinders on with my work as this is the force that takes my breath away

each time I work with a scent that I didn't think could work well and on occasion,

I have been proven very wrong indeed.

These personal attacks saddens me no end.  When one witnesses the industry

side, the literal hundreds of trials and errors, marketing meetings, discussions

with flaconnage and glass makers, months and sometimes years of perfecting a

scent involving literally thousands of people - only to have it assassinated before

given a chance. It also happens in stores as well.  If a salesperson dislikes a new

scent, they can also impact its sale without giving it a fair chance.   If someone

decides to drop a scent from the highest skyscraper, don't walk around the shards

of glass in fear.  Pick up your untouched bottle and adjudicate for yourself.

The net can be a harvester of great information if researched and written with

authenticity and professionalism or become the harbinger of negativity for

the industry through unsubstantiated misinformation.  One has to become

discerning.

"Fragrance is your walking Biography".- MB

How does one wear "inappropriate scents"?

MB: This is a great question!  Do you want to smell like you are wearing a leather Corset in the boardroom?  One has to question, if I wear this today, will it be overpowering? Does it reflect my fashion sense? My mood? Do I smell incredibly sexy and I have to go on a job interview?  The intensity should speak to your sense of propriety and etiquette.  Ask yourself this, would I want to be sitting and working next to me and smelling this scent all day long?

In your career, you have interviewed many famous Perfumers.  What have you learned from all these fascinating and in-depth interviews?

MB: Not unlike musicians, painters or writers, each Perfumer contributes their own inimitable style to their blends.  One becomes familiar with a particular accord or character. I recently interviewed fifty Perfumers for a story on Basenotes and I think one can really glean their passion and personalities through their answers.

Some adore the history of perfume and others only want to live for the now.  Others look to the future.  What is frustrating for most Perfumers, are the time constraints, prohibition of certain perfume materials because of IFRA standards; the lack of knowledge stemming from some Marketers who can change their minds after much laborious work has been done.  They are in difficult situations but are now speaking out through the burgeoning exposure they are finally receiving through the web.  Amen to that!

I also want to add that it has been my sole purpose to be the keeper of this perfume flame.  Some like to say "perfume is a dream" or "perfume is luxury".  For me, Perfume is the emotion and memories that have yet to be made or yet to be relived.  I am the facilitator of those memories by guiding the customer in the right direction.   Finis.

Special thank you to Marian Bendeth for her utmost patience and support. - RB

                               ~

Other gray market can be literally watered-down scents – scents that were decanted and refilled with who-knows-what?  Many end up on the net for sale too.  As the price-points are lower, this can appear very desirable to those on a budget.  But buyers beware!  There is usually a no-return policy and some scents have literally gone off or were stored in hot warehouses for years at a time.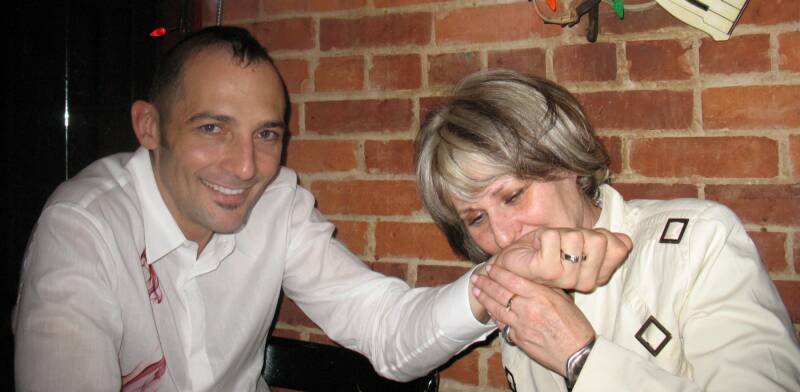 Having fun smelling Perfumer's Christophe Laudamiel's wrist

"Fragrance should never be worn like a thick scented choker, where the scent emanates from the neck in strong blasts like a foghorn! 

Rather, it should sparkle like twinkling stars, where small bursts disperse here and there; they elude us, pique our curiosity and make us want more."

                                                                                      –Marian Bendeth